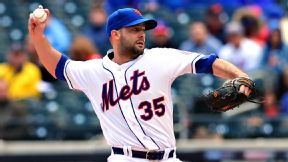 Brad Penner/USA Today
Dillon Gee strikes out six and gives up only three base hits as the New York Mets win the rubber game against the Miami Marlins in shutout fashion, winning 4-0 to improve to three games above .500.
Gee pitched eight innings, getting into trouble only in the fourth and seventh innings. In the fourth inning, Gee gave up a single to Marcell Ozuna, the Marlins first hit of the game. He'd be out at second on a fielder's choice, putting Giancarlo Stanton on first. He'd go to second on Jarrod Saltalamacchia's walk, but Gee was able to get out of trouble as Garrett Jones would strike out to end the inning.
In the seventh inning, Gee gave up back-to-back singles to start the inning, by Saltalamacchia and Jones. He was able to get Derek Dietrich to hit a grounder that went a couple of feet away from Anthony Recker. Recker opted to go to third to retire Saltalamacchia. Gee was able to get out of the inning unscathed when Adieny Hechavaria hit into a 6-4-3 double play.
Carlos Torres came in to relieve Gee for the 9th inning, and was able to get a 1-2-3 inning to preserve the Mets 14th win of the season.
Tom Koehler took the loss for the Marlins, going five innings in which he gave up five hits and four walks, which led to four runs, all earned. In the second inning, Koehler got into trouble as he gave up a lead-off walk to Daniel Murphy, and then plunked Chris Young to set up 1st and 2nd with nobody out. Lucas Duda would bring home Murphy with his ground-rule double.
In the fifth inning, Curtis Granderson led off with a walk. He was brought home by David Wright. Wright would be brought home with Chris Young's second home run of the season, giving the Mets a 4-0 cushion that they'd not relinquish.
The Mets are off on Monday as they prepare for a three-city road trip that begins with their first look at the Phillies on Tuesday down at Citizens Bank Park down in Philadelphia. In the first of a short two game series, Jonathan Niese will oppose Cole Hamels. Hamels lost his debut last week, giving up two runs in six innings of work as the Phillies lost against the Los Angeles Dodgers. First pitch is at 7:05 p.m..
THE INNING ENDER: It was a tough game for Eric Young. After leading off the game with a fly-out to right, Eric Young found himself the third out in the second, fourth and sixth innings. In those three inning-ending plays, Young managed to strand five on the bases.
AMERICAN LEAGUE, PLEASE? The Mets at this moment probably wish they were in the American League, where their pitchers wouldn't have to bat. After today's game, the pitchers are hitless, going 0 for 40.
Unfortunately for the Mets, the next time they will travel to an American League ballpark is in mid-May when they face the New York Yankees for the split four game Subway Series.